Yacht Crew Jobs
Jo Cooper our amazing Crew Manager has some insightful information for both captains and crew. With over seven years of yachting experience and five years working on land as a crew agent, Jo knows the ins and outs firsthand!
How did you join the yachting industry?
I joined the industry with the hopes of making great money, traveling the world, and meeting friends for life, and I did just that. Yachting is the most incredible industry out there; I have goosebumps typing this as it changed my life for the best and it could do the same for you too.
I grew up in Cape Town South Africa, a coastal city where we had a boat, and we spent most weekends out on the water. After school, I got a local job where I worked in photography set design and then moved over into the interior design sector. Very transferable to the interior department onboard yachts. I had two close friends that had just recently joined yachting and were living their best lives. I investigated the basic training and visas required, sold my car, and headed over to Fort Lauderdale to join my first yacht. It took me about two weeks to land my first daywork which turned into my first full-time position. Seven years at sea was just enough for me. I traveled to the most incredible off-the-beaten-track places in the world and have a friend and sofa to sleep on in almost every county. I'll never look back.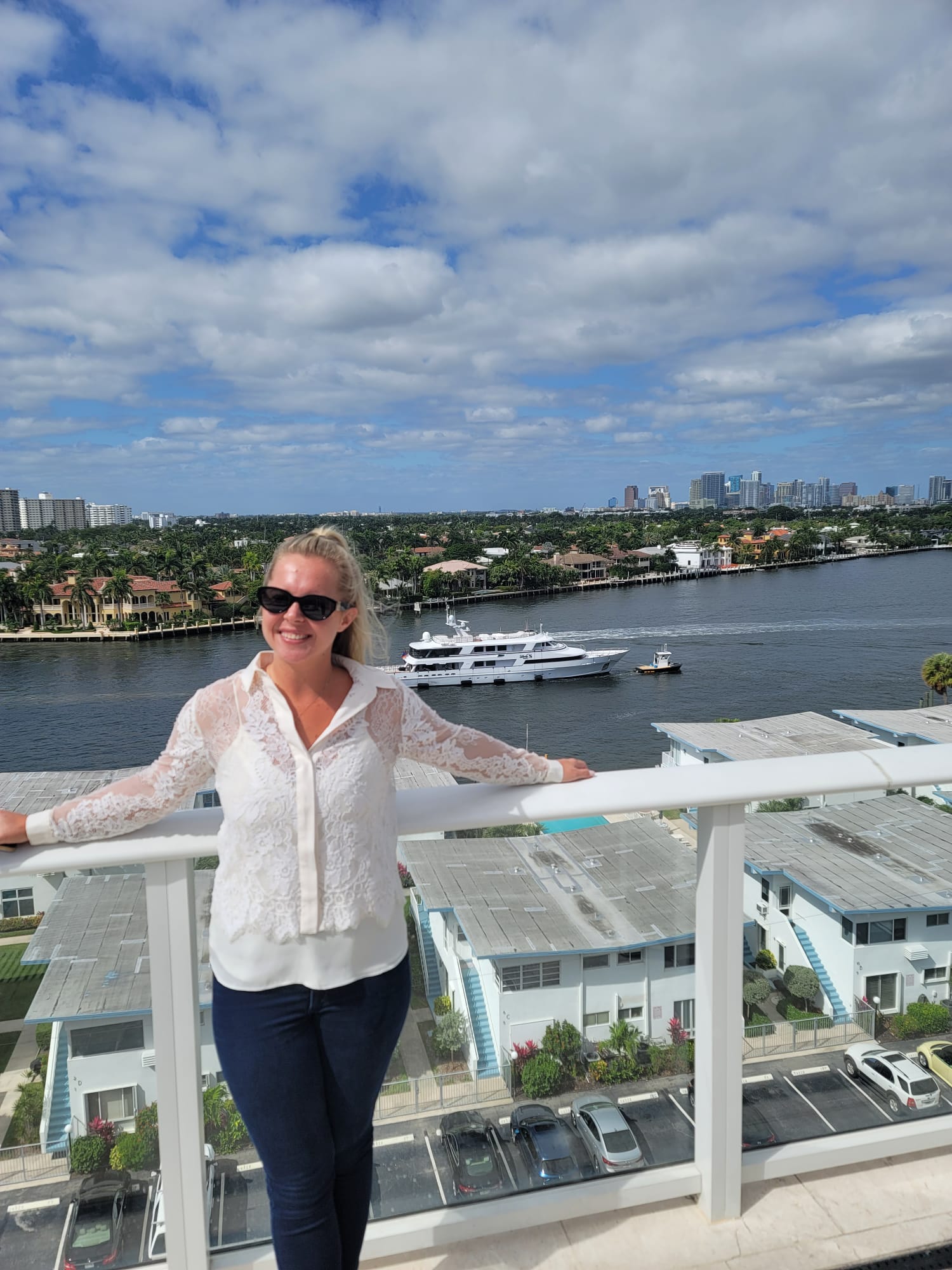 What are the crew looking for when applying for jobs?
Size of vessel
Itinerary of vessel
Program if it's private or charter
Total number of crew in the department the role is advertising to fill
Dynamic of the crew and age group
Package on offer.
Flag of vessel
Any non-negotiables
Do you think Salary should be included?
Yes, and any tips/bonus on offer. The crew is often offered several roles at once and if the money is important to them, then they will often lean towards one program for that reason. You could be losing an amazing qualified crew if you are not providing even a salary range!
How can employers improve job posts to make them more interesting for the crew to apply to?
By adding personality, hobbies, skills, or interests that they are looking for. I think it's important for the crew and owner dynamic and the best way to make a good match on board. You are placing people with people, so the more personable traits you can match up, the better the placement will be long term.
Should crew apply to a job even if they are underqualified?
That depends. I think if they are underqualified, no, but there is a difference with a crew that doesn't hold the 'required' experience. If a vessel is looking for a license it may be for insurance reasons, so tickets/qualifications are normally nonnegotiables whereas experience may not be. You can get away with applying for roles that are looking for an experience close to yours or the skill set/experience in another field that's transferable. Sometimes your personality and skills can get you the interview.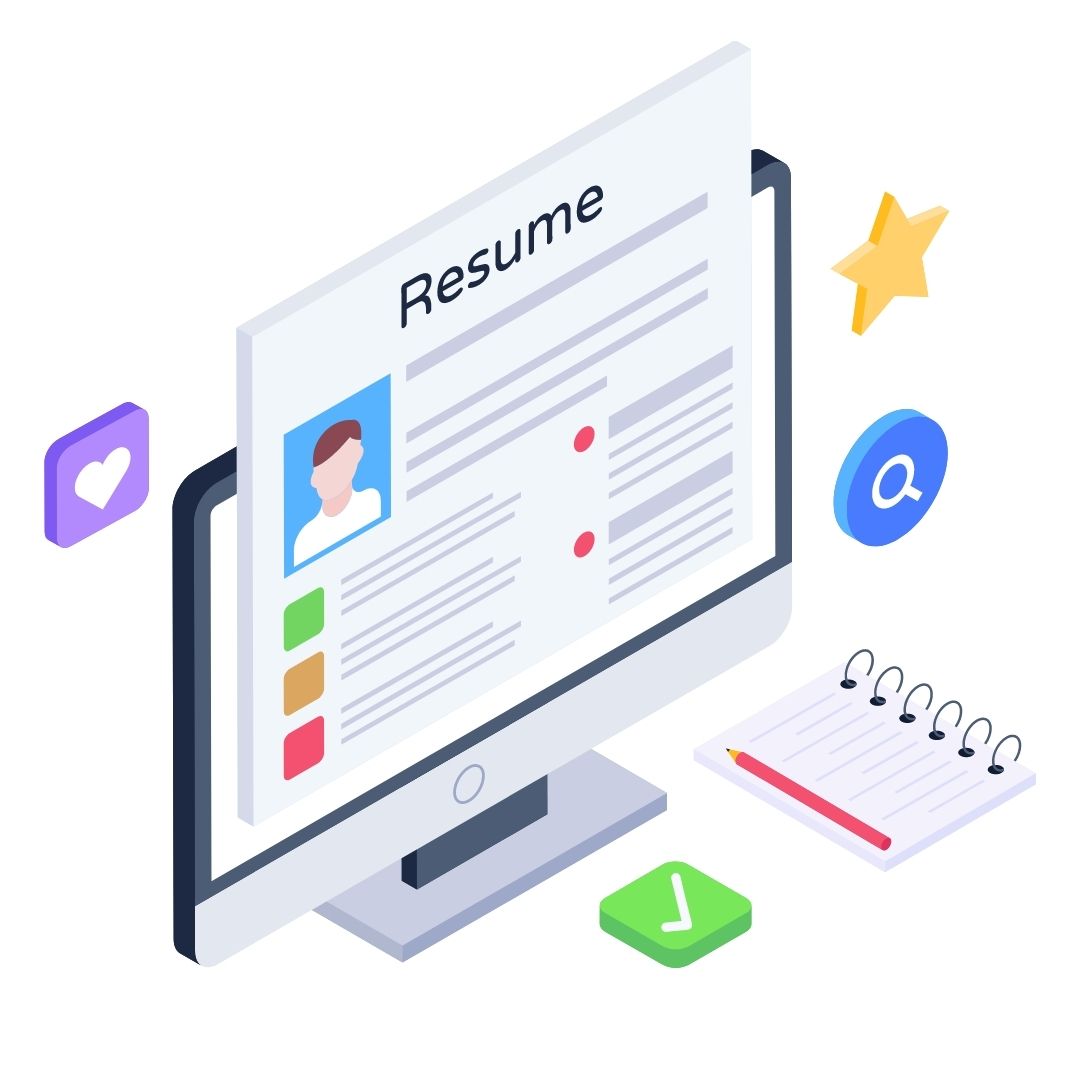 Are Drug Screening and Background checks becoming more popular?
I believe so yes. I believe that the vaping trend has a lot to do with the increase in drug screening trend. Before it was a lot more obvious if your crew was smoking illegal substances whereas now it's disguised in the vapes that smell and taste fruity. Background checks are generally something you see more with larger or American Flagged vessels, looking into American crew. I have noticed a couple of new companies pop up that offer background checks or screening services. Meridian° is currently working on something like this for captains and crew. Stay tuned!
What is your advice for the green crew when applying for jobs?
Be patient and consistent in your approach. Remember it's not only a numbers game but the hiring party on the other end is looking for something specific. Although you believe you are the perfect match, they may not.
I also encourage you to be realistic and educate yourself on the types of roles you are qualified for. This way you not applying for jobs you have no chance of getting but think you have a shot of removing some of the disappointment when you are looking for that dream job.
When emailing your cv directly to a hiring party I encourage a strong and catching subject line. Identify a must-have in the post and add your position plus the must-have you hold. Keep the body short, don't make them read a whole resume on your email, and then they must read your resume again with the same information. Just introduce yourself, confirm you have what they are looking for, and thank them for their time. Sign off professionally adding your contact number to your signature. Always double check you have attached your resume. This is a very common mistake that can leave you feeling somewhat silly. Triple-check your spelling and grammar before sending anything!
Keep track of the roles you are applying for. There is nothing worse than when you get a call from a captain or hiring party and you seem unorganized, unprepared, or put on the spot. Assume you will get the call to prepare for the call.
Attend every interview even if it's not the perfect role for you. An interview is always afoot in the door. You get great practice this way and familiarize yourself with the type of questions they ask. You also make great connections this way. Make sure you are early. Early is on time, on time is late, and late is unacceptable.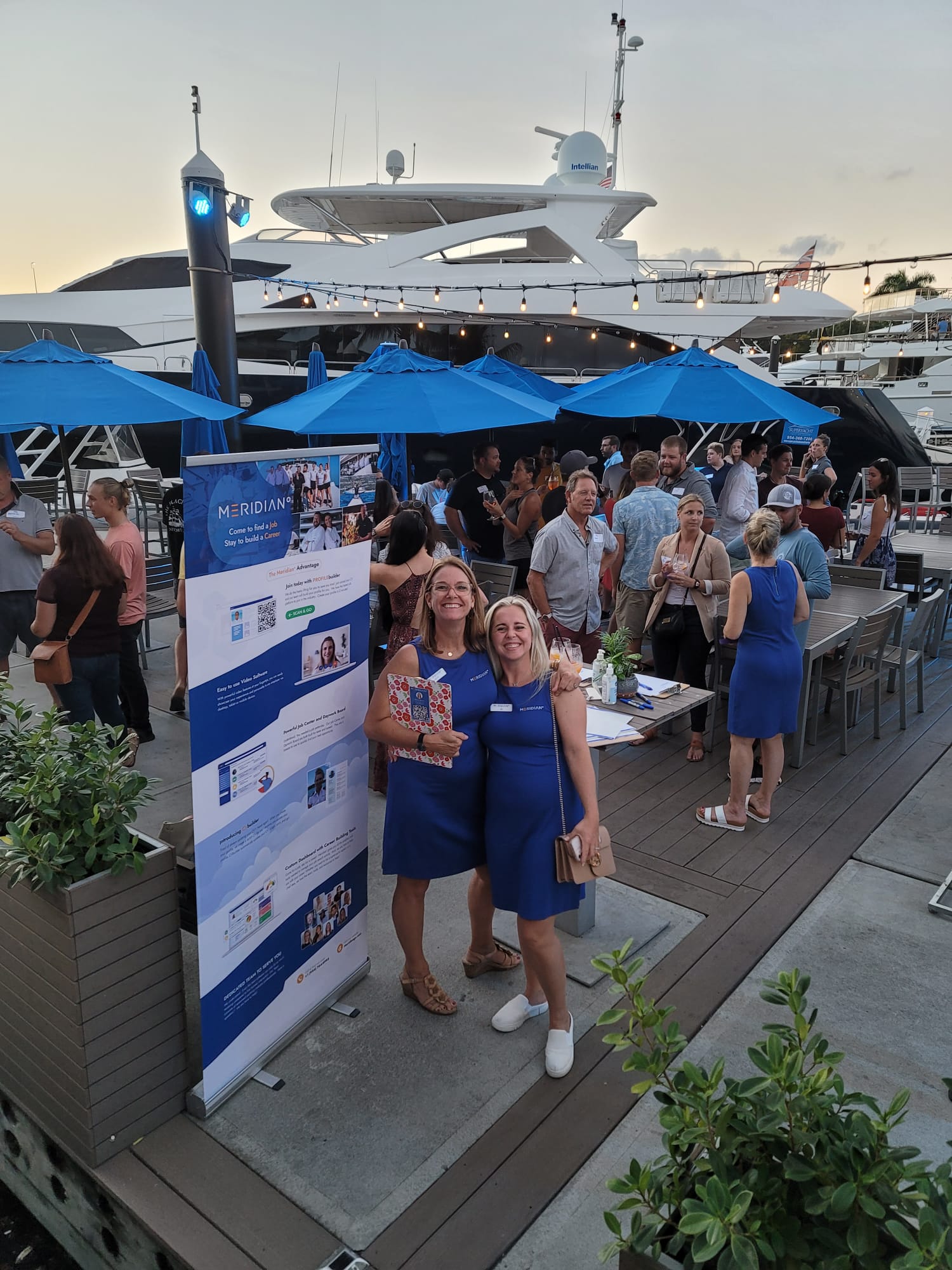 How does Meridian° help the crew find jobs?
Meridian° is the only company out there that will not only list you on our database for free but will also build your entire crew profile, for you. In addition, we verify every single certification uploaded. Meridian° is also the preferred software platform used by recruiters and hiring parties worldwide.
Meridian° Software is revolutionizing the yachting industry! The Crew Dashboard on Meridian° is one of a kind helping crew reach their full potential and employers find qualified crew.
Jobs - See potential matches we have found for you and applied jobs all in one shot for ease of tracking.
Employer Searches - Check out the data showing opportunities in your department for jobs and monitor the demand.
How You Stack Up Against the Competition - Compare Salary, Age, and the number of other crew looking for the same position.
Meridian° CV - Auto-generated CV that updates in real-time based on your profile entry.
Advanced Analytics - Get insight into how your crew profile is performing on our platform.
Upcoming Events & Newest Blogs - All the latest fun happening around the world for yacht crew, endless information, tips, tricks, and interviews! Helping educate the crew and allow them to network and make connections.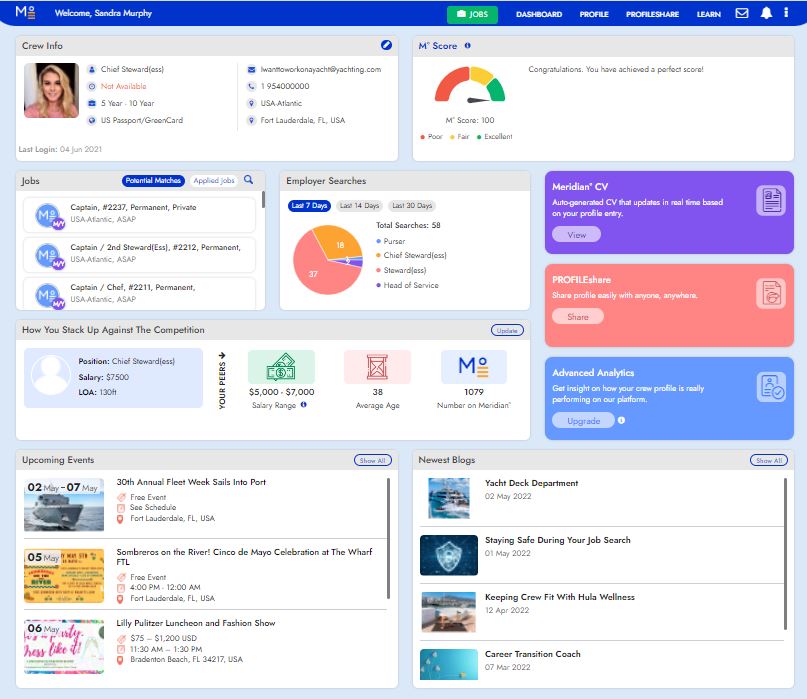 When is the best time to find a job in the yachting industry?
The yachting industry has opportunities year-round and worldwide it all depends on where you are and what travel documents you have in place.
In the summer season, April - August/September the yachts will head to the Mediterranean or go up the East coast of the US. It's a good idea to position yourself where the boats are. A lot of crews will head to Antibes or Palma for the Med. This leaves a bit of a gap in the crew market down here too in South Florida/ Caribbean.
During the winter season, September- March, boats will head back to either Florida, Bahamans, or down to the Caribbean. Fort Lauderdale is the home base for this season.
Just before and after boat shows there is also an uptick in hiring before the season. You must get into town to take advantage of all-day work and jobs going before the season starts. Check out our Daywork Board to start your yachting journey.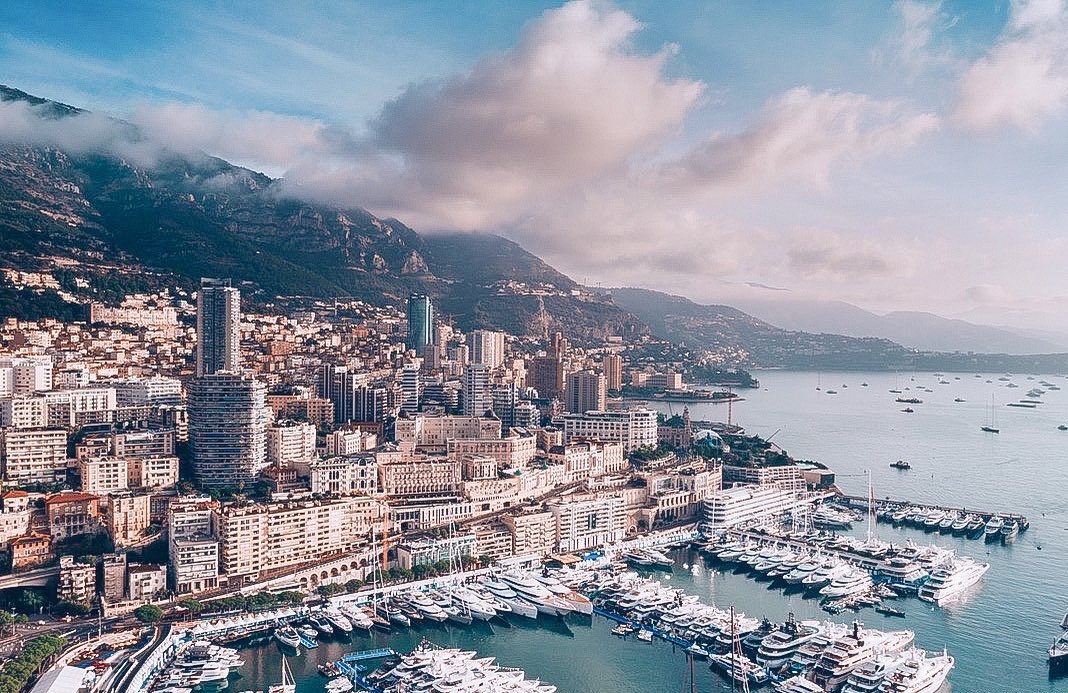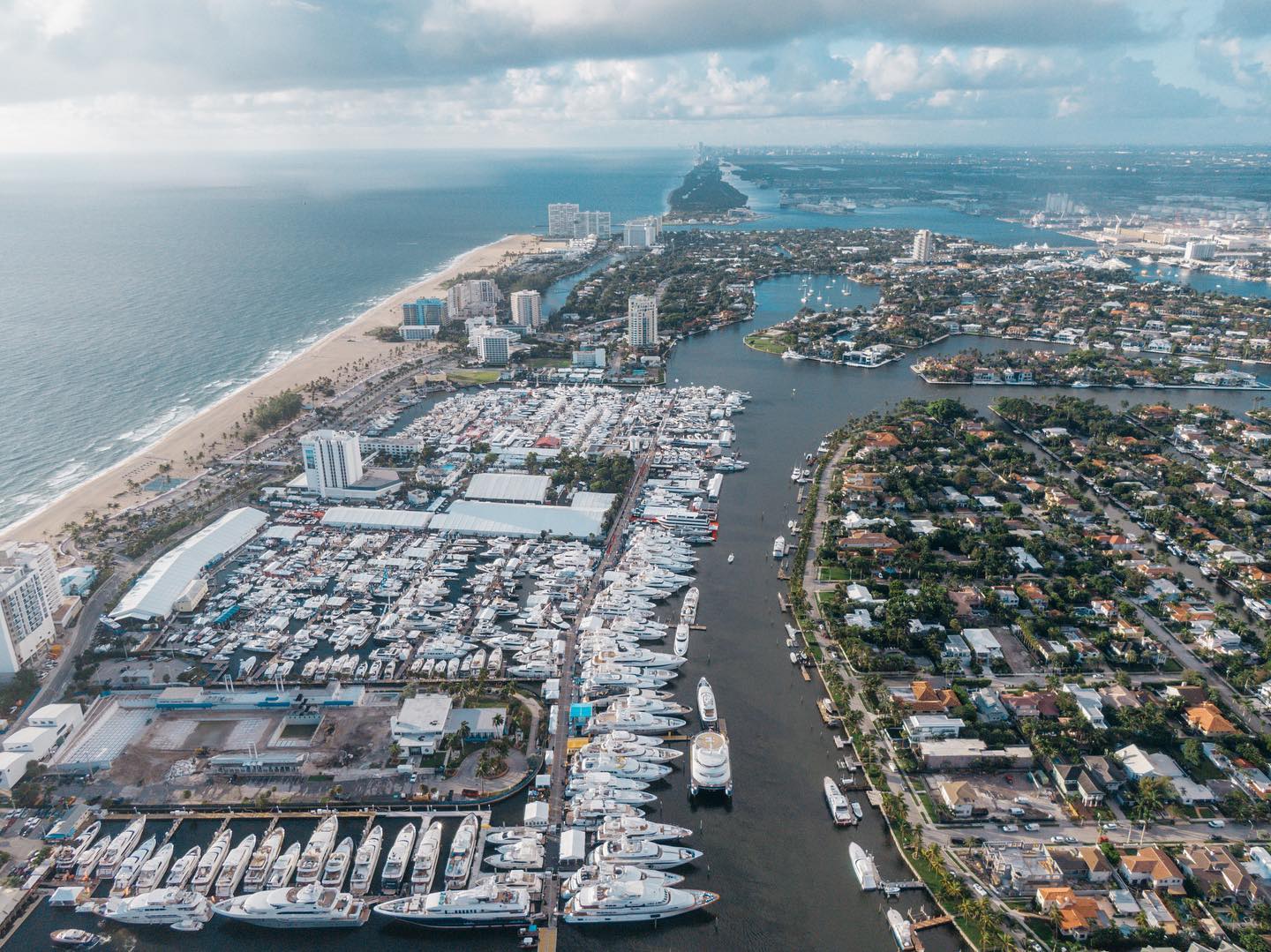 Photos Monaco MYS / Fort Lauderdale FLIBS
@mcclicmonaco @konner.webb
How long does it take to find work typically?
That depends. You cannot put a time frame on this process as it's totally out of your control. What I do advise is always to have your travel documents, CV, and bag ready to go when you are looking. You could get lucky and land a job on your first-day dock walking or it could take you a couple of months based on your location, certifications, and attitude.
Are COVID vaccination cards important for the crew to have?
COVID-19 as we all know is a contagious and unpredictable virus that affects everyone differently. When you have a boat full of people from all over the world who will react differently when in contact with the virus, then yes, it should be something the vessel takes seriously.
The crew often travel back and forth from their home countries, and within hours/days pick up guests from different countries, and then cruise into different countries and so on. This is a logistical nightmare for territories requiring vaccinated visitors who are not vaccinated. You are limited when you are sea to PCR tests, and you can be underway for days on end which could invalidate the PCR you need to enter. Overall, it's just a lot of work to have an unvaccinated crew on board. To protect yourself, your crew, and your guests it should be a must-have in my opinion.
Tell us about your transition to land life?
When I decided to go 'land-based' I joined which was at the time, the top recruiting agency worldwide and was in charge of the deck placements and all entry-level crew. I held this position for four years and loved every second of it. in late October of 2021, I was approached by Meridian° and joined their dynamic innovative team. I could not be prouder to be a part of the platform that will and already has improved and changed the placement process for the industry as a whole.
I believe I bring a lot to the table when it comes to the yachting industry and what it takes to be successful. I know my boats, my builds, my crew, and I probably know your future captain too. 😊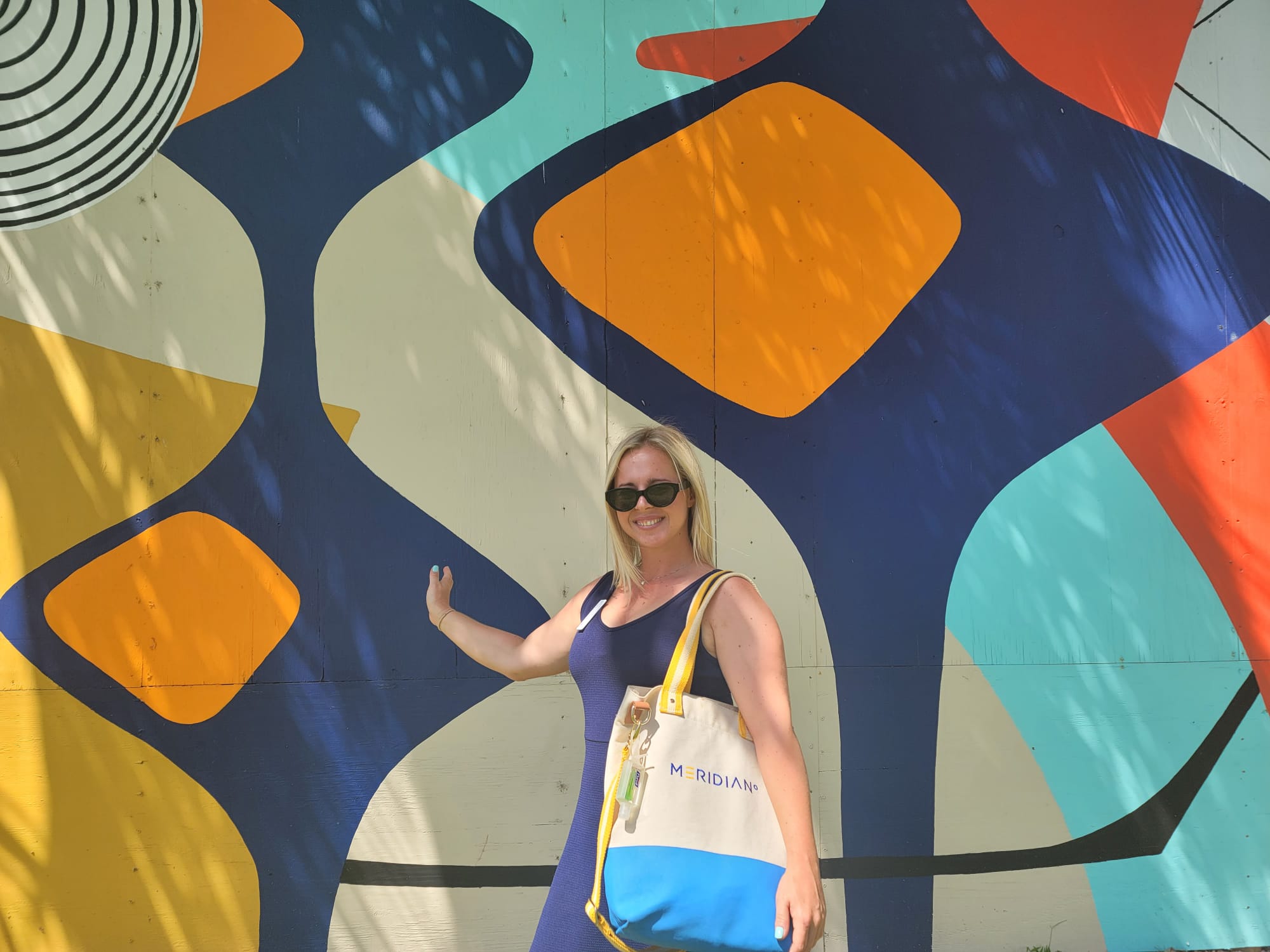 Cheers Jo!
If you are looking for more info please contact Jo at JDamgaard@MeridianGo.com
---
Looking for a yacht job? We are here to help guide you on the journey! Send us your CV/Resume and we will create a profile for you today! Crew@MeridianGo.com
Looking for crew? Join now and easily search over 40,000 qualified crew profiles to find your next great hire! Email Sales@MeridianGo.com
Copyright © 2022 by Meridian°
The information provided in this publication is intended for guidance only. We make every attempt to ensure the information included in this publication is accurate and up-to-date. However, Meridian° makes no warranty or guarantee regarding the accuracy of the information within this publication. We recommend, in all cases, seeking specialist advice so that your circumstances can be fully considered.
All rights reserved. This publication or any portion thereof may not be reproduced or used in any manner whatsoever without the express written permission of the publisher except for the use of brief quotations in a book review.