Sky to Sea - Tailwinds to Tides
We had the privilege to interview the Chief Stewardess of Spectre a 69m/226' luxury motor yacht to help us celebrate National Aviation Day. From jet-setting around the world flying the skies, to setting sail on some of the most luxurious superyachts in the industry, Kirsty has seen it all.
Q. Tell us a little bit about yourself.
A. I'm 30, born in Exeter, Devon, UK. I have been in the yachting industry for 7 years and I have been a Chief Stewardess for 4 and a half years. I have been involved in busy charter and owners' programs in Europe, the Caribbean, and the USA. I have been a part of the sales process of vessels, and lucky enough to be involved in a new build with the responsibility of setting up the interior. Best of all, I was lucky enough to meet my now Fiancé, and we have lived and worked together for all of these 7 years!
Q. How did you decide to change from air to sea, and what attracted you to the super yacht industry?
A. I was in a long-distance relationship when I was a flight attendant, and decided to leave my career to try to make this work. After a while, it became clear that I was not satisfied from previously having a fast-paced, exciting job as a flight attendant to do something land-based. My sister-in-law's brother is a chef in the yachting industry, so he's the one who introduced me to yachting in general. He was very helpful with advice on the right courses to do and what was to be expected of me if I wanted to make a career out of yachting. I took the plunge and did my STCW and ENG1, and then flew myself to Palma to search for a Stewardess position. The industry was attractive to me because of the similarities of travel, hospitality and the challenge not knowing what each day will bring.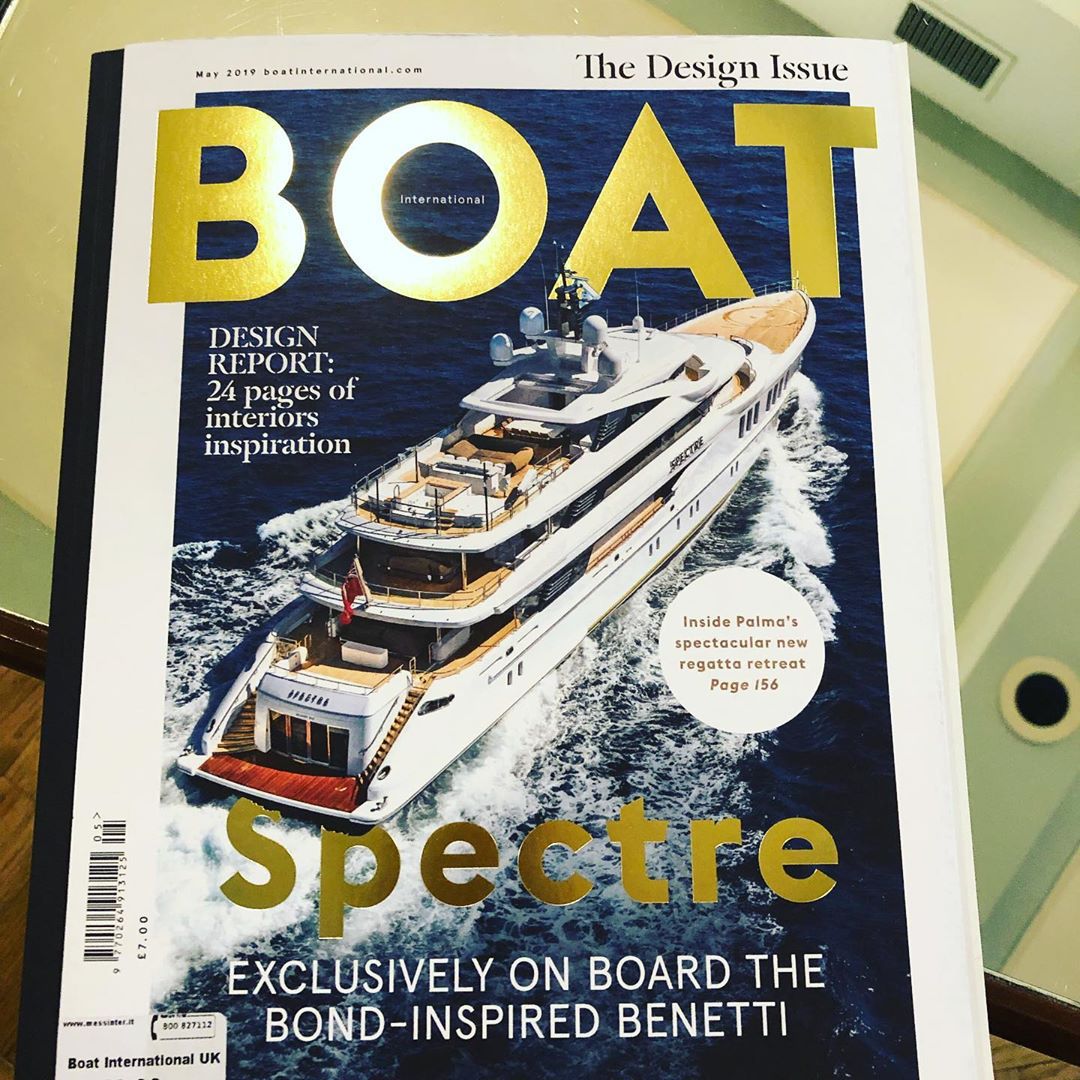 "When you see your floating "home" at the airport" ✈️
Q. Did you have to do different training when moving careers to yachting from aviation? Did you find this difficult? Any tips for crew?
A. Yes the training is quite different. I was actually surprised when I did my STCW that it was only one week long. When I trained for Qatar Airways, our training was for 8 weeks, 6 days a week. However, it soon became clear that each yacht is run differently, and the STCW is just there to give everyone the basics in first aid, sea survival and firefighting. Each vessel has specific operations and procedures tailored to the vessel, and you will not know these until you are on board to complete the relevant dills. When completing the STCW, it was clear that a lot of the equipment was very similar to what I had trained with before. It was just difficult to adjust to the different terminology. I would say that overall, I found the training relatively smooth as it was a lot of things I had seen/ heard before.
Q. What are the major differences and similarities as cabin crew vs yacht crew?
A. The initial thought that comes to mind with this question is adjusting to living on board with crew members 24/7. When I was a flight attendant, we would fly with different people every day, and sometimes you would never fly with the same people again. I became accustomed to spending time alone. When I joined my first yacht, it took a little while to adjust to sharing a cabin with someone. Also, meal times and after work leisure times were all surrounded by your fellow crew members. I was really lucky to have a great crew and they made me feel really welcome, so it was a pleasure getting to know everyone. This is something I am very aware of, and now in my position as a Chief Stewardess, I am conscious of the impact it has on new crew members. When I interview crew, I always like to talk about it.
Whilst flying, we had a monthly roster system and you would know each month your destinations, days off etc. I was used to this. I soon learnt that in yachting, things change all the time. It didn't faze me. I just knew to expect it, and not let it disappoint me if things didn't turn out how it was planned. I think it has actually been harder for my family over the years not knowing when I will be home on holiday until a week or two before. However, I have always had wonderful support from everyone, so this had made things easier.
As a flight attendant, a 3am start is not unusual. The days can also be long,and you're expected to always have a smile on your face. Sometimes after a 16 hour flight, this was difficult. But it taught me to work hard and focus on the positives. Yachting can be similar in that your work days can be long and you might not feel like smiling, but your guests and crew prefer it if you do. It really helps if you have a great team around you to pick you up on those days you need it most. I really enjoy getting know the guests. This is something you don't get time for as a flight attendant as passengers are only with you for a short time. However, on charters or owners trips you will see the same guests every day from anything to 3 days to 3 months! So this is can be rewarding delivering them the highest level of service tailored to the individual.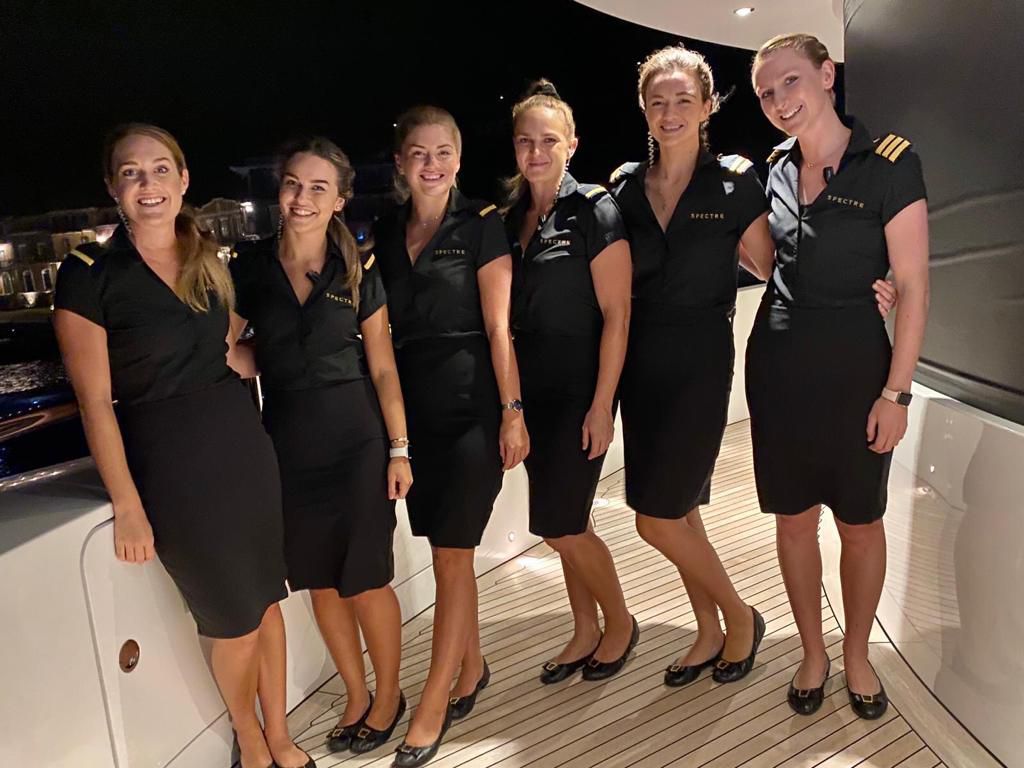 Q. What advice would you give to someone changing careers to join yachting?
A. My advice to somebody considering joining the yachting industry would be to always remain professional. This is something I was taught and practiced as a flight attendant every day. The yachting industry is a relatively small industry, and you can really make an impression on many people with the right attitude and professionalism. I was only 20 when I began flying all over the world. I was then 23 when I got into yachting. My first job was actually looking for a candidate over the age of 25 and with experience. However, with my experience and range of skills I had developed whilst being a flight attendant, they stood out and proved to be invaluable. It really helped that I visited as many crew agents as a I could when I was in Palma. Without doing this, I don't believe I would have found my first position. A good CV will always stand out, but a first impression face-to-face will last longer.
Q. With the way the world is changing with travel, would you recommend a career in yachting? If so, why/why not?
A. I would always recommend a career in yachting. I believe it has been the best years of my 20's, and I wouldn't change it for the world. Traveling is always something I have never been worried about or fazed by. From being a flight attendant, I realized how accessible the rest of the world really is. No place is ever too far away. It is the same with yachting. An Atlantic crossing may take 12 days, but you experience something so unique it is totally worth it. Something is always possible. Friends and family are never too far away.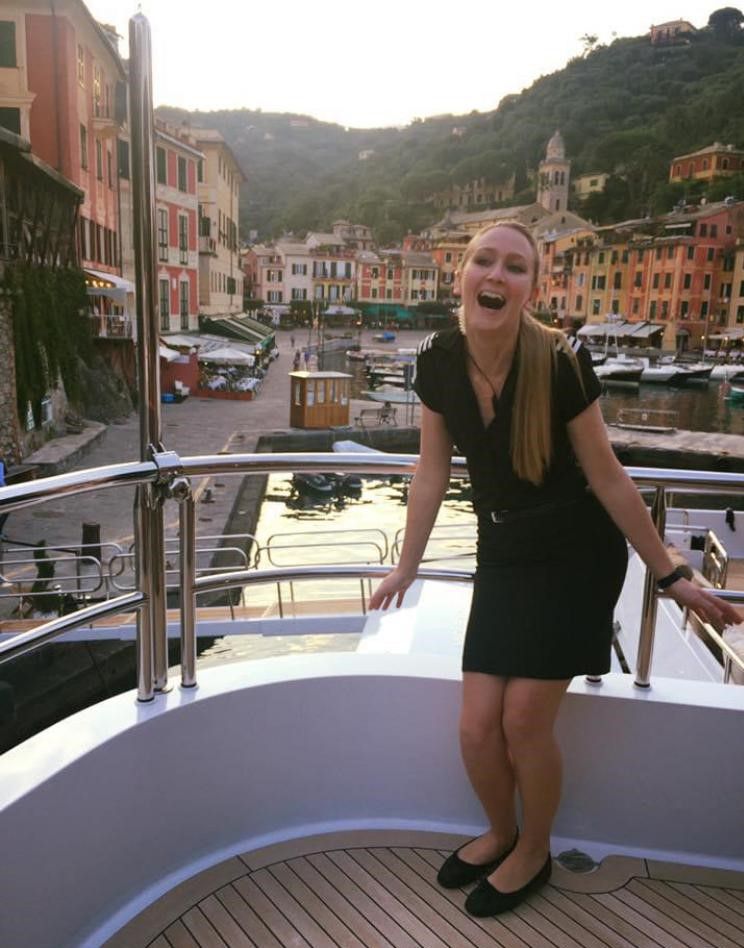 Q. Any additional information that may help or you think would be relevant crew would be interested in knowing about?
A. When I changed career into the yachting industry, I didn't know if it would be a long-term career. However, after 7 years and still going, I believe that it can be if you want it to be. There are many paths it can take you down, and you will learn skills that you never knew you would! Lots of companies offer great courses to introduce you to becoming a stewardess. I never completed any of these as my hospitality background was enough. However, I believe if you feel that you need the confidence to make the change, then I would recommend completing one. It will not teach you everything, but it gives you a good start. Bartending, cocktail making, silver service and flower arranging are skills that require practice. I would 100% recommend having these skills. Practice them whenever you can. Being confident in them will make you shine out from the rest.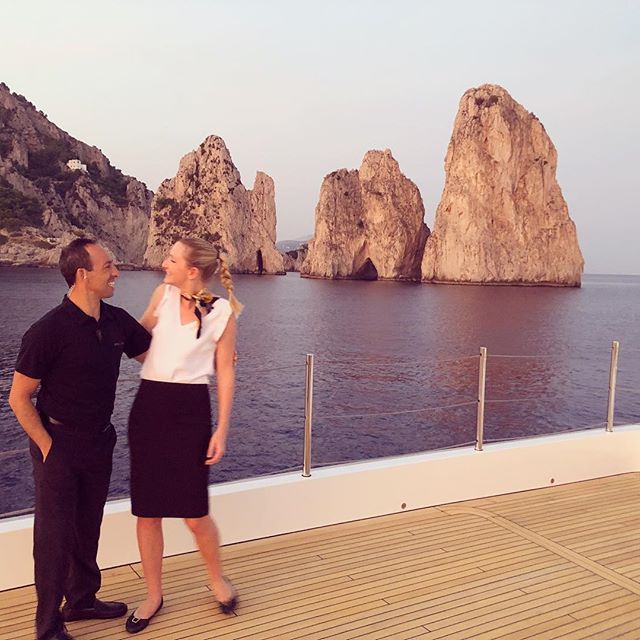 "When you work, live and love every day together" ??????
Thank you Kirsty! =)
---
Need a job? Let employers find you easily! Create a free CREW account to get hired.
Need crew? We have 3 subscriptions plans to fit your budget - we guarantee results!